---
REGISTRATION
Important Dates:
Trail: Mon, 11 May 2020
Adventure: Tue, 12 May 2020
Race: Wed, 13 May 2020
Venue: Glencairn Farm
Race Briefing: 4:00pm
DIRECTIONS TO GLENCAIRN FARM
In Underberg Main Street, at the Shell garage, take the road to Himeville.
Travel for 8.3 km, passing through the village of Himeville.
Turn left up the Sani Pass road.
Travel for 3.2km
Arrive at Glencairn Farm on your left.
GPS: 29*42'03.81S, 29*29'29.29E
Registration will be held at Glencairn Farm on the dates listed. Registration will open at 11am each morning and close at 7pm each evening. All teams will be issued with their black box containing their number board, clothing and other important items. Their race village band will be fitted.
Spur will provide all riders with lunch, and supporters can purchase from them. Drinks will be available at the bar also run by Underberg School.
The sani2c shop will be selling previous years' clothing and souvenirs at registration.
RACE BRIEFINGS
It is recommended that all riders attend the race briefings prior to riding each stage. Final essential information regarding the route, weather prediction, safety and other housekeeping is relayed to the riders.
Race briefing will be held at the various venues at the following times:
Glencairn Farm - Day 1 details: 4pm
Mackenzie Club - Day 2 details:6pm
Jolivet Farm - Day 3 details: 7pm
ACCOMMODATION
Please visit the accommodation section of sani2c.co.za for a full list of guesthouses, lodges, farm cottages and hotels in the Underberg, Himeville, Sani Pass, Ixopo and Scottburgh areas.
PRE EVENT
Limited pre-event tented camping is available at Glencairn Farm. The cost for this camping is not included in your entry fee. You need to book this separately. The camping fee includes dinner on the night of registration day and breakfast on the first day of the event. Alternatively, riders can book accommodation anywhere in or around Underberg, Himeville or Sani Pass.
DURING THE EVENT
Each team is allocated a four-person tent (2.5m X 2.5m), with enough space for two riders and luggage. Comfortable mattresses will be provided but you are required to bring your own sleeping bag and pillow. Tents will be erected for you.
POST EVENT
All competitors must make their own accommodation arrangements for Scottburgh after the finish of the event.
BLACK BOXES
Each competitor will be issued with a 100-litre dust- and waterproof plastic box. The letter on your black box is not your batch sticker. You can ignore it. This is to help the box stacker while off-loading at the race villages. All your clothing, bike spares, energy drinks etc, need to be packed into this box and this will be transported between the stage locations. No other bags will be transported between stage locations. It will be your responsibility to load your box onto the Super Group truck before the start of each day. There will be a separate truck travelling from registration directly to Scottburgh with bike boxes and any other kit you will not require during the event. Please ensure that you load any unwanted kit into this truck, which will be at Glencairn the afternoon of your registration and the morning of your start. Black boxes need to be handed back at the finish in Scottburgh where they will be exchanged for a Finisher's top.
DROP AND GO ON THE MORNING OF YOUR START
All riders not staying at Glencairn Farm on the evening prior to their start will need to make use of the Drop and Go system on Glencairn Farm, situated at the entrance near the batch pounds.
Supporters bringing riders to the start will need to drop riders with their bikes and boxes at the Supergroup trucks (at the loading ramps opposite the batch pounds).
The Super Group truck taking bike boxes and other items to the finish in Scottburgh will also be positioned here.
Riders need to be race ready with bottles and GPS units.
Riders will need to load their boxes and can then help themselves to the Food Lovers Market snacks available in The Barn. Your supporters are welcome to join you for a snack.
Please ask drivers to be aware of cyclists on the tar section before the farm, as it forms part of the neutral zone at the first 3km of the Day 1 route.
Aim to be dropped off at least 40 minutes prior to your start time so you have time for snacks and to check in to your batch pound, situated just before the start line.
BATCH STARTS AND SEEDING
In an effort to reduce congestion on the race route, we will be seeding all teams for the start each day. Seeding for Day 1 will be based on recent events and/or your last sani2c results. Seeding for Day 2 and Day 3 will be based on your overall position. You'll receive an SMS confirming your starting batch for each day the day prior.
BATCHES
Day 1: Batches of 50 teams will leave at 10-minute intervals on Day 1, with Batch A starting at 8:00AM.
Day 2: Batches A-V will consist of 25 teams each and will leave at 5-minute intervals. Batches W-Z will consist of 50 teams each and will leave at 10-minute intervals. Batch A will start at first light.
Day 3: All 50-team batches (in non-Race events) will leave at 10-minute intervals. Reverse order for Batches A and B on Day 3 in the Race event only. If you are in the category prizes or are a contestant of a category prizes you HAVE TO start in A or B batch. If you do not start in A or B batch you forfeit your chance to win a category prize. Batch C will start at 6.30am and batches will leave at 10-minute intervals. Batches H and onwards will leave at 5-minute intervals. A and B will start at 10:00AM with B batch directly behind A.
NOTE: Both team members need to check in together with the batch pound marshals. This must happen at least 20 minutes prior to their advertised start time. Any team jumping to an earlier batch will be given a three-hour penalty. Scanning mats on the start line will record your official start time and pickup any discrepancies.
BATCH STICKERS
There will be no batch stickers on your number boards. The onus is upon you to assure that you start in the correct batch. Seeding of teams and their relevant batch start time will be made available 10 days before registration on this website. Batch lists with start times will also be displayed at registration and before the start.
BATCH START TIMES
| Batch | Day 1 | Day 2 | Day 3 | Race Day 3 |
| --- | --- | --- | --- | --- |
| A | 8H00 | 6H30 | 7H00 | 10H00 |
| B | 8H10 | 6H35 | 7H10 | 10H00 |
| C | 8H20 | 6H40 | 7H20 | 6H30 |
| D | 8H30 | 6H45 | 7H30 | 6H40 |
| E | 8H40 | 6H50 | 7H40 | 6H50 |
| F | 8H50 | 6H55 | 7H50 | 7H00 |
| G | 9H00 | 7H00 | 8H00 | 7H10 |
| H | 9H10 | 7H05 | 8H10 | 7H15 |
| I | 9H20 | 7H10 | 8H20 | 7H20 |
| J | 9H30 | 7H15 | 8H30 | 7H25 |
| K | 9H40 | 7H20 | 8H40 | 7H30 |
| L | 9H50 | 7H25 | 8H50 | 7H35 |
| M | 10H00 | 7H30 | 9H00 | 7H40 |
| N | 10H10 | 7H35 | 9H10 | 7H45 |
| O | 10H20 | 7H40 | 9H20 | 7H50 |
| P | 10H30 | 7H45 | 9H30 | 7H55 |
| Q | | 7H50 | | |
| R | | 7H55 | | |
| S | | 8H00 | | |
| T | | 8H05 | | |
| U | | 8H10 | | |
| V | | 8H15 | | |
| W | | 8H25 | | |
| X | | 8H35 | | |
| Y | | 8H45 | | |
| Z | | 8H55 | | |
NUMBER BOARDS
Each rider will find their number board in their black box. Your timing chip will be in your number board. Do not cut or punch additional holes into your number board as you may damage the electronic filaments needed to time you. Please verify that your timing chip is functional and has your correct details by getting a scanned check at registration.
When you cross the finish line please confirm with the time keepers that they have picked up your number.
Your number boards will not have batch stickers. The timing system will confirm your start time. You will be required to hand your number board in at the finish in Scottburgh. You will receive your start time via SMS and it can be found on the results boards in the race villages.
CYCLING SOUTH AFRICA (CSA) MEMBERSHIP
KAP sani2c is a CSA-sanctioned event. We suggest purchasing a CSA membership for the insurance benefit in case of a cycling-related accident. The membership/license is valid for 12 months from date of purchase. More information can be found here.
GPS NAVIGATION
sani2c uses full GPS navigation, however important turns are still marked, ensuring everyone gets to the finish safely. EasyBike are our GPS information and support gurus. They will be available to answer any GPS questions in the run-up to the event and at registration.
Please go to our GPS Navigation page for all the information you will need.
WATER TABLES AND FOOD STATIONS
The rule of thumb is that there is one watering station per 35km (roughly). Day 1 has two watering points. Day 2 has three (plus a USN hydration station) and Day 3 has two. Their locations will be discussed at the race briefing and can be found on your route profile stickers given to you in your black box at registration.
Each watering point will serve chilled water and Coke. Each table will also have a selection of eats available. Each morning at breakfast, you can make sandwiches to carry with you if you feel you require more nutrition for the ride. We recommend that you carry your own favourite brand of energy bars, nuts, fruit cake, gels etc.
AT THE END OF THE DAY
Your bike will be taken away from you for washing by the Talisman and Cemsa crew as you cross the finish line. Remember to stop and remove your GPS device.
aQuellé will be on the finish line of each stage handing out water so you can rehydrate. Clover vanilla and chocolate milk will also be available in the recovery area, and the USN team will be offering shakes and recovery drinks. They will also offer advice to anyone who experienced hydration, sugar and other issues along the route.
Once hydrated and recovered, you will be required to collect your Black Box from the Super Group truck. Trolleys will be available to help you push your box to your tent. Please do this yourself and refrain from using the race village staff. The race village helpers have other tasks to perform and the offer of tips is not encouraged.
Delete the first numeral from your race board and this is your tent number. Once you have found your tent, leave your trolley in the passage and a porter will return it.
Please shower before going to lunch. For hygienic, and other obvious reasons, we request that all riders shower before visiting any dining area.
The Chill Zone at Mackenzie and Jolivet is open 24 hours and will serve lunch, tea, coffee, chocolates, banana bread and other eats for the duration of the event for all competitors between the start and finish lines. Tea and instant coffee will be provided but all other beverages (alcoholic, soft and barista coffee) will need to be purchased from the bars provided by the local communities.
Supporters and race crew need to stock up with all their meals, drinks etc, before the start as these will not be available in the race villages. We are in the countryside, so shops are extremely scarce.
RECYCLING
We go through 90000 plastic bottles during the event! In our efforts to decrease waste at sani2c we have partnered with Safripol, a KAP group company, to recycle all plastic bottles from the event. These will then be used to make a school bench for a sani2c beneficiary. Please look out for the bins with the below artwork and do your part in assisting us recycle the plastic generated at the event.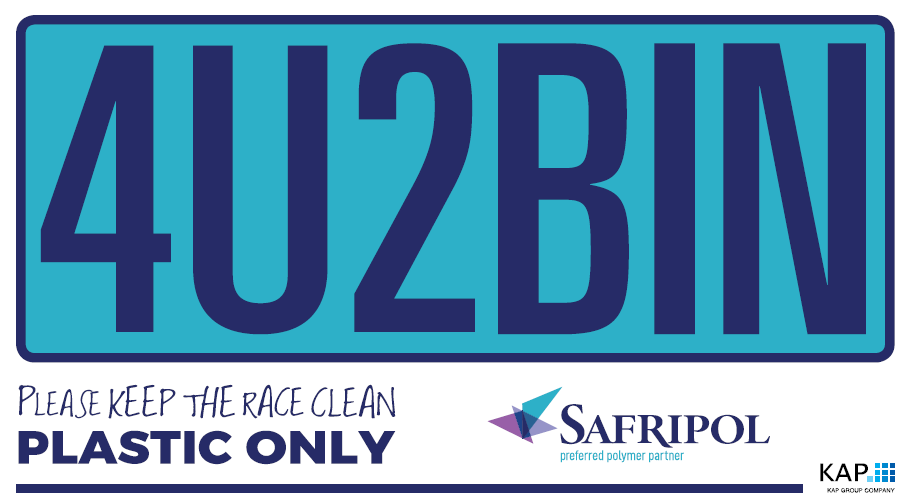 CUT-OFF POLICY
We will have a cut-off at the last water point of each day and one at the finish at 5pm. These cut-offs are very achievable and will be announced at race briefing each evening.
Why a cut-off policy? We have an incredible backup support crew who look after you in daylight hours. You need to be in before dark or this impacts on them and results in us spending too much time looking after the unfit and underprepared versus the majority of our riders.
sani2c is an event that is about achieving something. It is not a bike tour. Only riders who finish all three stages will get the Finisher's T-shirt in Scottburgh.
PRIZE GIVINGS
We will stage a prize-giving at the race village each day. Stage winners and overall category leaders should be present at the daily awards ceremony. The final prize-giving will be held at Scottburgh Golf Club at 1pm.
Day 1: MacKenzie 6pm
Day 2: Jolivet 7pm
Day 3: Scottburgh Golf Club 1pm
NOTE: Only the Race event gets awarded for overall category. The Trail and Adventure riders will receive fun prizes.