WHEN YOU DON'T KNOW WHO TO CALL, WHEN YOU REALLY NEED HELP.
One of the unfortunate realities of life is that emergencies do happen – another reality is that the sooner help arrives, the better! mySOS emergency app was designed to help you in emergency situations by providing you with the correct contact details for emergency services and to inform your emergency contacts of your emergency and your GPS location.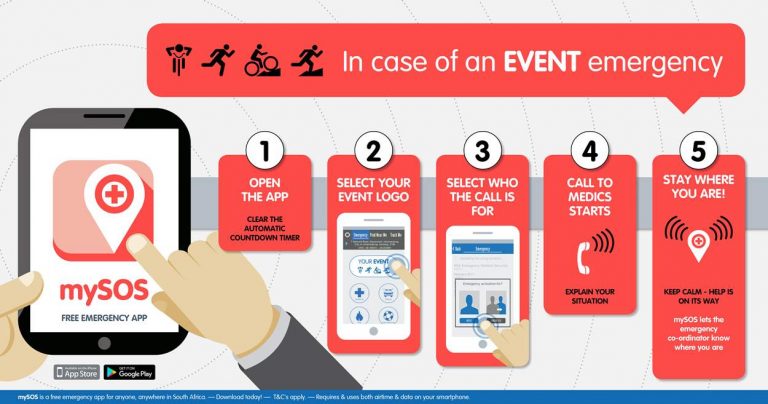 HOW DOES MYSOS HELP YOU DURING SANI2C?
During sani2c the event logo will be displayed under the emergency tab in the mySOS app. Should you experience any emergency during the event you will be able to contact the event emergency coordinator by pressing the button with the sani2c logo. The event coordinator will receive your details, GPS location and medical details to enable prompt assistance.
mySOS is available, free of charge, from the App Store and Google Play. Download and use it to save a life!
For more information: www.mysos.co.za.
FOLLOW MY RIDER
Your supporters can now be part of the adventure and can follow you online
How does it work:
Your rider needs to use Track Me on mySOS app during the race. Location services for the rider's phone and for the mySOS app on the phone must be on
Click here to track your rider
Add your riders' cell numbers
You will now see your rider position displayed on the course map