Dear Special Sani Mountain Bikers,
Excitement is high in sani country as our teams are busy with our final preparations before hosting you at KAP sani2c 2019.
Hopefully our teams have had our major annual challenge where our 2019 curve ball came in the form of heavy flooding on the South Coast. Day three was affected badly after a deluge of over 350mm of rain, resulting in every river crossing needing major work. In true sani spirit the Scottburgh local mountain bikers sprang into action with 101 ideas. Day3: Jolivet to Glencairn?!
Rising to the challenge, route teams have been bolstered and will continue working long and hard in order to get the Day 3 route back to its fast and flowing state. We will be left with one interesting reroute due to the 88 year old Esparanza bridge being completely washed away.
Now into our 15th year and with the "honeymoon" period long over I continue to see the passion in all our communities supplying services for our event. Although the valued cash injection for their services is vital for these essential rural organizations, I feel that the positive spirit generated by sani2c maybe more important. Community inspired events such as KAP sani2c are an opportunity for us to all roll up our sleeves together with the broader community. It is an occasion to bring a community together for a common cause, that being to create a better life for our children and their future.
To all of you who are so supportive and positive in all that we do. What can I say but, THANK YOU. Thank you, one and all, for your passion, dedication and commitment to a proudly South African event.
We all look forward to welcoming you at Glencairn for the ride of your life and to thanking you for the life you will be giving to the many who you will pass along the way.
Travel safe.
Farmer Glen
Your final information. It's time to ride!
It is too late to train now so if you haven't done the training the only thing you can do now is mentally prepare yourself and get organized!
Follow us during the event
With race week almost upon us we would like to share with you how you can keep up to date with all of the action. If you have not liked or followed our channels, now is the time to do so! Instagram (@_sani2c) is going to be our core broadcast channel where Oliver Munnik, Bianca Haw & Jason Boulle will be covering the Race through Insta Stories as well as stunning images from our photography team. Facebook will be where our daily photo albums as well as the daily highlight edits will be found. Twitter (@_sani2c) will touch on both the racing action as well as the overall vibe at the event. All the highlights can also be found on our website during race week.
Your Ride Guide
We have tried a new concept so we hope you all enjoy it! It is a good idea to go through it beforehand as there is a lot of pre-ride info which will get you well prepared for your ride to the sea. Please make sure you view it in full screen for max enjoyment and use the tabs at the bottom to navigate to the pages.
You will also all be given the Mountain Bike magazine with a shortened ride guide version at registration. This mag is currently being sold in stores nationwide if you want to go grab yourself a copy beforehand, otherwise you can view/download it here.
GPS Route
Our GPS partners from EasyBike have been working flat out to get the final routes sorted for you after the recent joBerg2c riders tested out the routes for you. So now it is time to get downloading and uploading.
It is important that at least one of you in the team has a GPS.
We are now in our 6th year of using GPS navigation to navigate our unmarked route. It seems daunting to some but once the routes are on your unit, all you have to do is ride and follow the bread crumb trail.
Things to remember
We ride through private land with special permission for this event only, so please do not share these routes, as anyone found on our route will be shot dead and even worse banned from all the other lekker events.
No supporters are allowed on the route except for designated supporter stops. Please make sure your supporters do not go on the route with their vehicles to avoid embarrassment. Check out the supporters section on the website for details.
The descent and ascent measurements are estimations – no bike GPS is able to measure climbing and descending accurately despite what they tell you.
There are loads of instructional videos on Youtube about uploading and following tracks with hundreds of devices.
Please ensure you upload your tracks before the event. We will have EasyBike support to troubleshoot at registration but not to upload everyone's files.
Okay so now for the fun part! Upload your routes.
There are two ways to load the route onto your GPS
1. EasyBike GPS Program (Windows users only – easiest and fastest)
EasyBike's GPS program will either assist you to download the GPS route files onto your GPS or direct you to EasyBike's website for assistance and instructions on how to download them.
Click here to download the EasyBike GPS Program to your computer and follow the simple on screen instructions.
Once the download is complete, install and run the program.
2. Direct Download (all other users)
If you want to download the files and you don't need any assistance, please click on one of the following links to download the GPS files:
Ensure you have the correct file format (GPX, FIT or TCX) for your GPS unit. If you download the wrong files you might not get all the added features that are available for your unit (e.g. water points, Virtual Partner etc.) and it may not work.
The EasyBike instructions website contains detailed instructions if you find you need them.
Need to buy a GPS with files uploaded or looking for an upgrade?
If you don't have a GPS yet or want to upgrade, EasyBike have some awesome "sani2c" specials lined up for all riders, offers available on Polar, Suunto, Garmin, Sigma, and Wahoo GPS units. You can buy now from EasyBike and collect at registration, pre-loaded and ready to use! Email Matt sales@easybike.co.za or checkout their website www.easybike.co.za and quote "sani2c" when placing any orders.
EasyBike have the following pre-loaded GPS specials for riders
Garmin Edge 130 Bundle – R3299
Garmin Edge 520 Plus Bundle – R5899
Garmin Edge 820 Bundle – R6399
Garmin Edge 1030 Bundle – R10599
Garmin Fenix 5 Sapphire - Black with Black Band – R8899
Garmin Fenix 5 Plus Sapphire - Black with Black Band – R12999
Polar V650 HR (H10) – R4499
Wahoo ELEMENT Bolt – R4499
Suunto 9 G1 Baro – Black – R8299
EasyBike at Registration and in the race villages
EasyBike GPS gurus will be at Registration (and during the race) to assist you, if you have had some challenges when trying to download our GPS route files at home or have a problem with your GPS. Please, however, try to download the GPS route files at home before arriving at Registration. They will also have limited stock of GPS units, as well as spares & accessories at their New Mobile Technical Support Trailer.
Still need assistance?
If you have a different brand of GPS unit, or are unsure if it is supported or require any further help, please contact EasyBike Support sales@easybike.co.za.
Batches
On Thursday, the 9th of May, you will receive an SMS with your batch for day 1. It will also be up on our website.
Packing
It can get rather chilly in the evenings and rather warm during the day. Pack wisely. Find your packing list here.
Rhino Tears Wines
With our Rhinos so close to extinction we needed to play our part. All bars at KAP sani2c will be stocking Rhino Tears Wines. With each bottle bought, R15 goes to the SANPark Honorary Rangers. You can read more about Rhino Tears here. Not only this, one lucky KAP sani2c rider who enters the competition at the race village bars can win a four day / three night stay in tented Mokhohlolo Wilderness Camp in the Kruger National Park valued at R15000!! Better get yourself to the bars.
Recycling
We go through 90000 plastic bottles during the event! In our efforts to decrease waste at sani2c we have partnered with Safripol, a KAP group company, to recycle all plastic bottles from the event. These will then be used to make a school bench for a sani2c beneficiary. Please look out for the bins with the below artwork and do your part in assisting us recycle the plastic generated at the event.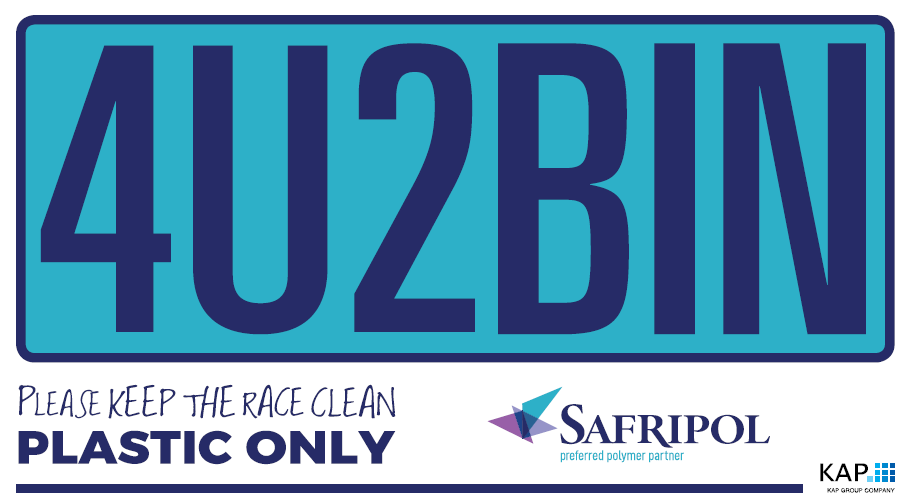 Substitutions
These are now closed online and you will need to go see Judy and Sandra at registration should you have late substitutions. Please do not ride under someone else's name. You are transgressing a number of rules but more importantly we need all your correct details should you have an accident and need us to help you fast and safely. A fee of R500 will need to be paid per late substitution. Please ensure you have your medical aid details, blood group and emergency contact person's details with you in order to do a substitution.
Massages & Physio
Pre-bookings have closed however there will be a few spots available for on the day bookings.
Glencairn registration venue
Registration starts at 11am
Race Briefing is at 4pm
Directions can be found here
Spur will be serving a juicy burger for lunch to all riders on the day of registration and Faithways School supported by Food Lovers Market will have a selection of snacks, tea & coffee for you to nibble on before your start in "The Shed" at Glencairn.
NB: All riders camping at Glencairn will receive a cooked breakfast in the chapel prepared by Underberg School.
You are then welcome to lounge about in the Restonic Chill Zone or outside on the PG Bison bench sets and eat away to your heart's content (just not too much as remember ICONIC CLIMB is awaiting you on your trek to Jolivet!)
sani2c shop at Glencairn, Jolivet & Scottburgh
Besides all the great clothing you will be given at registration we will be selling an awesome range of new clothing as well as previous years' clothing in "The Shed" at Glencairn, in the Big Box container at Jolivet and at the finish in Scottburgh. NB payment only via cash, zapper or EFT. You can draw money in Himeville and Underberg just up the road. Download Zapper before is also a great suggestion!
Old clothing, blankets, & animal drive
Time to do a clean out… a reminder about our old clothing, blankets and animal drive. Delivery point will be in the Super Group truck at Registration. We all have old jackets and items of warm clothing & blankets cluttering our cupboards. Bring any unwanted items of adult or children's clothing with to and we will arrange to have it distributed along the race route after the event. This is one small way we are able to convey our thanks to the many people along the route who together allow us to have so much fun. You would be amazed how appreciative they are for these items of clothing we no longer need.
Tips for each stage
For those of you who are getting nervous, here some tips to help settle the nerves.
Day One - Glencairn to Mackenzie Club
Get into the correct group off the start line. Don't get caught up in the wrong group and head out there like a mad person.
The first water table is at 43km making sure you have enough fluid to get there.
Look after your partner and be honest. Let each other know how you are each feeling. You are as fast as the weakest rider and Day 2 is a big day so don't kill each other on Day 1.
Day Two – Mackenzie Club to Jolivet Farm
Ride within yourself down the Umkomaas. The Umko drop is a high accident zone so just take it safely.
Fill up properly at the first water point at the 40km mark. It is a long, slow and hot climb out (although the new addition of Woody's Burn does cut out one horrible climb). USN will have a surprise refuel station which will be a sight for sore eyes somewhere before Iconic.
It is then up to you. Do you want to be a beast and conquer Iconic or take the "road less travelled" and climb the slightly longer but more gradual "Hlegabafasi"?
After the Halfway Stop you would have broken the back of the day but you still have the climbs of Songololo Haaibo1 and Haaibo2 before Highflats Church.
Once in the Sappi plantations find a good group to help you back to the finish. One can often encounter a head wind on this section. Save a bit for this.
For safety reasons the timing for Day 2 stops 4kms before the end at the amazing school, Kings Harvest Academy. You will be welcomed by smiling and dancing children.
The Unitrans Mile will be a neutral zone. We want you all to arrive safely in Jolivet so the last 4kms can be taken super easy and used as a warm down. Remember Day 3 awaits and it's fast.
Day Three – Jolivet Farm to Scottburgh Golf Club
This is a fast flowing start. Work hard to get into the right group.
Save energy for Clint's Climb and work hard to stay in your group as they will drag you along after you have crested.
The first table of the day comes early at 23km.
Don't race wildly through Vernon Crookes Nature Reserve. This is a high accident zone area. Watch out for hidden ruts in the jeep track. Don't cross the middle mannetjie and remember the sharp left turn. Obey all signage.
Save a bit for the last 25km running east as you need to be strong to stay with the group. This last stretch can be energy sapping especially if the beastly eastly is blowing. Remember there is nothing better than finishing your 3 days strong. We need wide smiles on the finish line!
Oh and watch that bridge! No one is exempt. Even the pros have taken a swim!
We will then see you at the new finish! Scottburgh Golf Club.
Official after party
Join us for a drink and some grub at the Golf Club were we sit back and reminisce over what you have just achieved!
See you all soon at Glencairn!
Farmer Glen and the sani2c team