sani2c began as the dream of Farmer Glen, an avid mountain bike enthusiast and co-organiser of the Imana Wild Ride. read more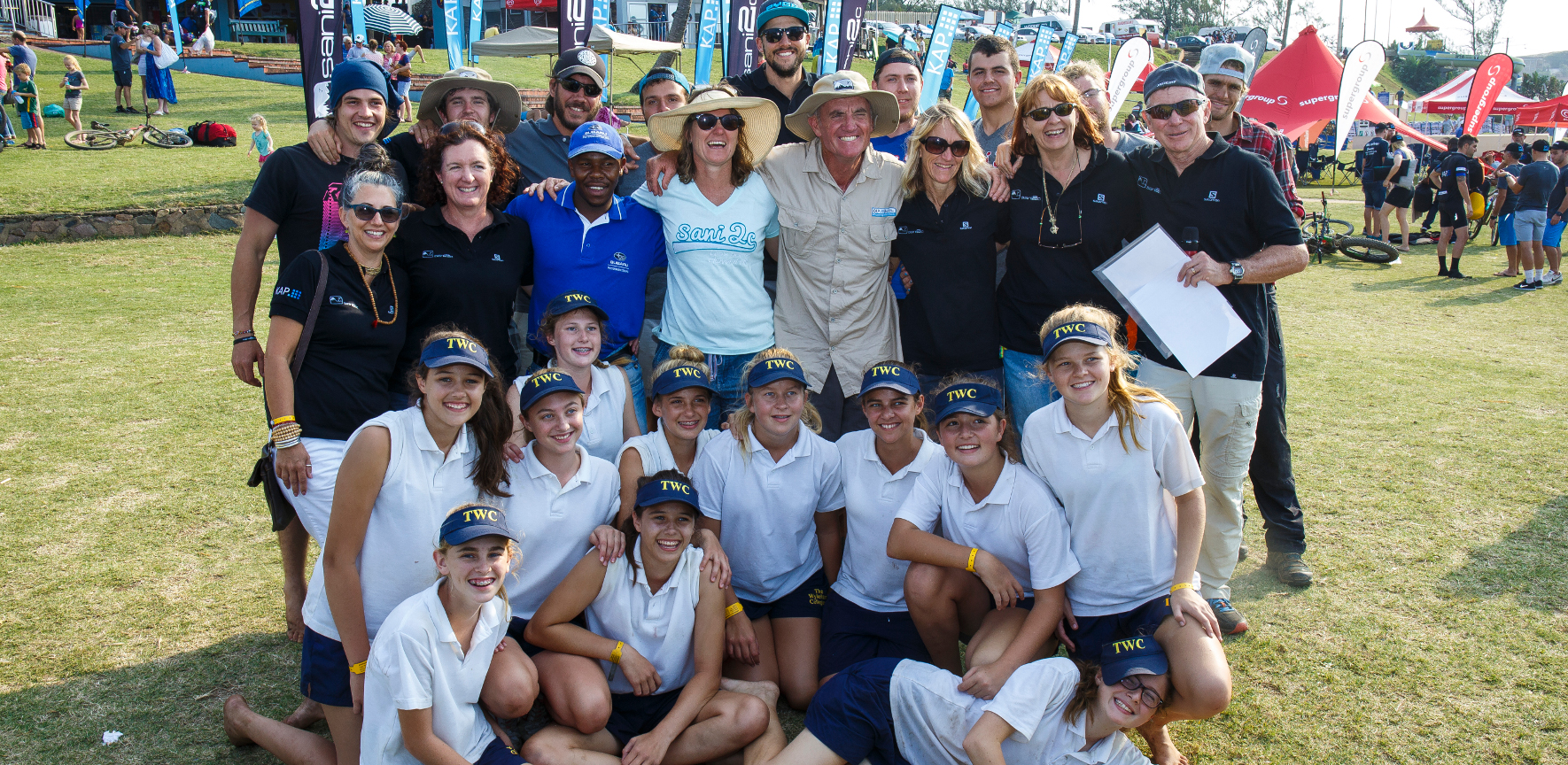 KAP sani2c began as the dream of avid mountain biker and co-organiser of the Imana Wild Ride, Farmer Glen. Having convinced fellow MTB-nutters to complete a trial run in 1998, Glen continued to scout and refine the rugged course with the objective of establishing a world-class route. His wife, Mandy was integral to the event from its genesis, dropping Glen and friends in the middle of somewhere and collecting them later in the middle of nowhere on countless infamous dry runs. In fact, if it were not for Mandy, Glen would still be out there somewhere, lost.
The entire route was reconnoitred and developed over several years – on mountain bikes. Its pioneers examined every track, path and rock, climb and descent themselves. This approach continues with countless hours spent debating potential routes and modification – usually while perched on a mountain top or while pedalling through rows of cane. By 2004, Glen was confident that a worthy route had been established and agreed to by landowners, authorities and communities.
2005
February 2005 saw the inaugural sani2c, which accommodated 300 teams. It was highly successful, despite heavy rain and muddy conditions.
2006
Subaru came on board as title sponsor. With this support and in response to an overwhelming demand for entries, the organisers accommodated 500 teams.
2007
The 2007 Subaru sani2c was restricted to just over 600 teams. The weather gods smiled and all three days enjoyed near perfect conditions. It was named 2007 Best Cycle Race of the Year at the annual South African Cycling Awards.
2008
Demand for entries and from communities wanting to participate meant that, in a world first, the event was split into two separate races, sani2c Adventure and sani2c Race. The event was again named Best Cycle Race of the Year.
2009
Confirming the event's popularity, 93% of the teams from 2008 re-entered. However, due to different partners riding with previous entrants, the event still comprised a long list of newcomers.
2010
Demand continued to grow. Despite this and challenging weather conditions, which meant the glorious Umkomaas section was not ridden, sani2c 2010 was heralded a great event.
2011
This year saw big changes. The 2011 race field was limited to 650 teams per race and the event was moved from March to May, a drier and cooler time of year in southern KZN. Bang on, 2011 saw three days of perfect riding conditions.
2012
Demands for entries and from organisations were unprecedented. The sani2c Trail was added, welcoming 1 400 inaugural Trail riders. Having been involved since 2009, Nedbank became the title sponsor under its BoE banner.
2013
The 600-metre floating bridge was added to the Nedbank sani2c and, due to housing developments north of Umzinto, 20 km were tagged onto Day 3.
2014
As the event's tenth birthday, sani2c celebrated its Black Mambas, i.e. those riders who had participated in all ten events. The Barn concept was introduced at race villages and it was universally accepted that sani2c number ten was among the best.
2015
Permanent race villages were significantly upgraded, providing everyone involved with an advanced experience. Glencairn Farm became the registration venue and start, finally realising Glen's dream of starting in the proximity of the Sani Pass. The venue at Jolivet Farm was also refurbished, with the Barn concept gaining momentum and creating even more opportunities and jobs for surrounding communities.
2016
Adjusting its sponsorship strategy to focus more attention on its well established social upliftment model, sani2c entered in a B-BBEE partnership with JSE-listed, KAP Industrial Holdings. An alignment of values and brand association saw KAP become title sponsor. This enabled further improvements to the race villages and route, benefitting all involved.
2017
Although part of the race had to be rerouted due to inclement weather, additional switchbacks and berms, and the correction and inclusion of cambered sections added to sani2c's trademark fast-flowing trails, ensuring it was another memorable event. Henry the Crocodile at the dual PG Bison floating bridge and the famous Iconic Climb were among the many unforgettable features of the ride.
2018
Riders had the option of undertaking Iconic Climb or Hlegabafazi, which is longer, but less steep. Many will tell you the former would have been easier. The finish moved to Scottburgh Primary School to recreate the atmosphere of the race villages.
2019
With a few route tweaks, improvements at the race villages and an ever-passionate crew, the 15th year of the KAP sani2c was memorable for all.